Welcome
An exciting new season is upon us again. Be sure to check out our new "Southern Line" of attractants, they are going to be game changers for sure. We have also developed a new urine free scent called "Whitetail Whizzard". This scent is currently being tested heavily in the field and the results are amazing! Due to the manufacturing process Whitetail Whizzard will not be available until 2017.

If you want to see consistent results while hunting, stock up on Lowes Whitetail products this year and reap the benefits that so many have been enjoying. Like we say, "If you want to see more deer, you better smell like one"!.

Our 2016 "Purchase Promotion" is as follows:
Any purchase from $5.95 to $19.99, receive one free Silverflage Scent Eliminator
Any purchase from $20.00 to $39.99, receive one free Synthetic Deer Scent
Any purchase $40.99 to $99.00, receive one Silverflage and one Synthetic
As always any order over $100.00 will receive free shipping!
*** No PayPal account? No Problem! ***
To pay by Credit Card select, "PayPal Checkout" in your shopping cart instead of "Go To Checkout" and enter your card information.
Feel free to contact us with any questions you may have.

To order by phone:
Monday thru Sunday
8am to 8pm
Phone (717)789-4381
Fax (717)789-2061

Hunt Hard and Stay Safe!
Rick and Anita Lowe

Please check back for updates. To follow us on Facebook click on Lowes Whitetail Or Ricky Lowe

Product Confirmation Video produced by Brandon Wetzel






SilverFlage 1Gal Refill
If you use SilverFlage like we do, you will find this economical 1 Gallon refill perfect for your ap...

$25.00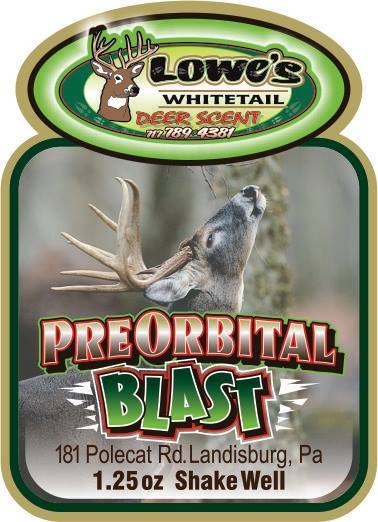 Pre Orbital BLAST
This isn't your daddy's old school scent. Our Pre Orbital BLAST has added enhancers to really reach...

$10.95